21 Dec

HTTPS for your Websites

Do you know that starting from January 2017, Google Chrome will start to indicate if a website is secure or non-secure. ALL pages that are not HTTPS will have an indication of Not secure.
For your information, HTTPS stands for Hyper Text Transfer Protocol Secure, and it is the secure version of HTTP. In simple terms, HTTP is the way the data is sent between your browser and the website you are currently browser. With the word Secure, it means the transfer of the data is encrypted. Usually HTTPS is used in e-commerce or online banking websites.
On Firefox and Internet Explorer, if you will see a padlock icon in the address bar that means the webpage is secure with a valid HTTPS certificate.
Eventually, Google has plans to label all HTTP pages as non-secure and change the security indicator to the red triangle.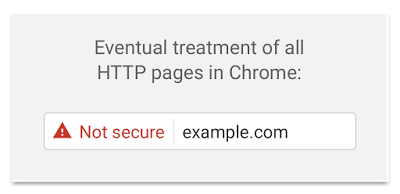 So, is it time for you to start making the change? Along with a refresh of our website, we just did the update on our own website, https://www.t2web.sg !
How do you make your website HTTPS?
The first step is to obtain an SSL Certificate. SSL stands for Secure Sockets Layer. To make it easier to understand, think of it as one of the secure methods to encrypt and transmit the data. You can contact your host provider to purchase (and install) a SSL certificate for your domain. Note that each domain will need its own SSL certificate. In addition, SSL certificate is an annual purchase which you have to maintain. If your certificate is expired, the encryption will not work. Also, after the SSL certificate is installed you need to make sure that it is implemented correctly. When you visit any of the webpage on your website, there should be the green icon and no broken icon in the address bar.
To test that your SSL Certificate is valid and implemented correctly, you can visit Qualys SSL Labs.
Benefits of HTTPS
The immediate benefits of having a HTTPS is so that your website is more secure. You get to gain trust from your customers, and when customers submit their data to you (whether credit card, or their personal information), they can be assured that their data is encrypted and safe. The fact that Google Chrome does not label your website as Not secure is also one of the push factor.
Minor SEO Boost
Just a gentle addition: HTTPS does help to boost your ranking signal at Google (small boost in rankings). It will help with your Search Engine Optimisation (SEO). Read more about HTTPS as a ranking signal here.
Reference/Source: https://security.googleblog.com/2016/09/moving-towards-more-secure-web.html